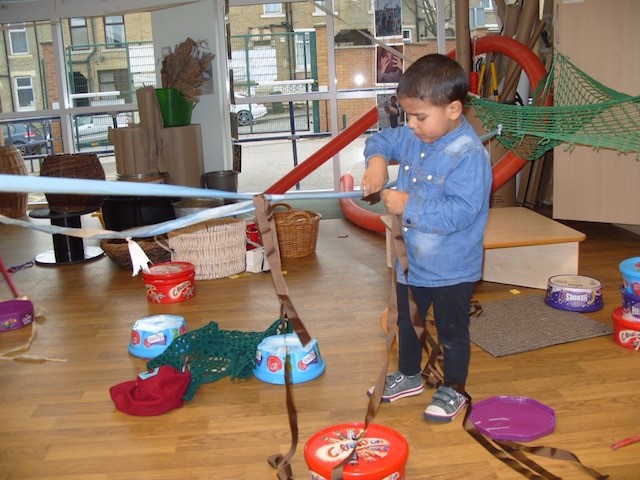 14 March 2017
Conversations in Red and Yellow Class
This week I have decided to use some photos and conversations to see if you can "guess what went on". I think they show quite a lot.
Conversation 1
'Hello'
'Hello'
'What's that?'
'They taking one'
'Yours the proper one'
'Buttons'
'Aha, that one'
Conversation 2
'Hello'
'I'm on holiday'
"Where?'
'Egypt'
'What did you see?" (whoops-interesting that I change it from the present tense to the past rather than keeping the current game going as if it's happening now)
'Aminals'
'What animals?'
'Tyrannasuarus" (that threw me!)
Conversation 3
'My Dad can break things'
'What can he break?'
'Chairs'
'Why does he break things?'
'Cos he's grumpy'
Conversation 4
'Remember the rocket picture?"
I didn't or couldn't remember.
'We did it outside" he said to try and help me.
'Oh yes" I'm afraid I lied here
'I still got it, it's on the fridge'
Pancake Day - so the fire alarm went off and we had a full fire drill. H whispered lots, but difficult to catch. They were very absorbed in making food together, chatting away. We also had mobile phone soup, of course, always goes with pancakes. It was a very calm group so it didn't feel right to put the fast tidy up music on, the tidying/sorting happened very efficiently without my manic input!
G carried on stacking, A watched the effect of pulling the ribbons that were attached to the cupboards. I had started tying up the studio (this comes from a hippy art teacher I had who got us to tie up the whole of our classroom with string, it was the 1970's, and it has stayed with me all this time even though I had no idea what it was all about at the time - or even now. It had a massive effect but I've never felt the need to examine that. Maybe I should. My dad, who was an art teacher, was very dismissive of it at the time. What art thing has stuck in your mind I wonder?)
J loved to climb into the box, A was singing "strawberry ice cream, ice cream, sprinkle ice cream, chocolate ice cream, ice cream' It was very catching.