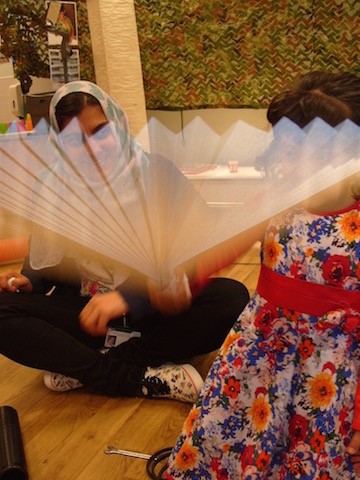 2 May 2017
When I arrive at nursery, the first thing I always try and do are my rounds of saying hello. Apart from the importance of saying hello of course, it is also to see what's been going on - so much happens in a week.
In the studio with Yellow Class
A new group, and although I have only 4 weeks with each group the difference of how they react in the studio in that time is amazing, so much so that it always takes me by surprise when it's a new group and they enter the studio so tentatively and need, for example, to be shown that its OK to open the cupboards and use what's there.
SI finds the glasses that pixelate - "Rainbows" he declares.
The conkers still feature as items of interest 6 months on, and those paper cups that Summayyah said when she spotted them in the scrap store would generate lots of interest.

AI placed the red and yellow plastic shapes that seem to mostly get ignored across the window ledge - which also doesnt get used much by the children. There's always room for new stuff to occur.
"I'm bigger" said SA.
In the studio with Red class
IB carefully arranged the plastic sweet containers. Me: "Do you need help?" IB: "Yes." Me: "What would you like me to do?" IB: "Open, open box."
What surprised me is how he arranged them, using the lids as well as the bottom half. He continued along his theme by again, very carefully placing circular objects inside, like CD's and then I spotted he had collected the rings on his arm, maybe so he could be more efficient.
HA: "I'm making my circle".