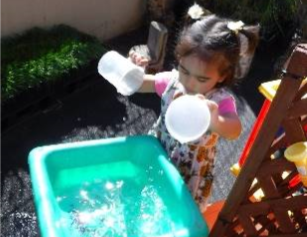 Meerab is now a big sister – congratulations to the whole family on the birth of your beautiful baby girl! And Hashim Ahmed has turned one!
The sunshine was very welcome towards the end of last half term and we made the most of it by taking lots of activities outside. We played in the water, planted more herbs in our little garden and got creative with large scale painting and collage.
In the holidays, we took the children to City Park. Experiencing water on such a large scale is so much fun! We are really lucky in Bradford to have such an amazing feature in our city centre and on a warm, sunny day there is no better place. We highly recommend that you take your children there often. Try taking a lightweight ball, placing it on one of the fountains and watching it shoot into the air! #44 Fountains of Fun is one of the 50 things to do before you're five. Download the app, and get lots more ideas for what you can do when you're there!
This half term we are looking forward to our Eid Party on Monday 18th June – donations of food very welcome!
We will be spending lots of time outdoors so please remember to bring a hat to nursery for all those lovely sunny days!