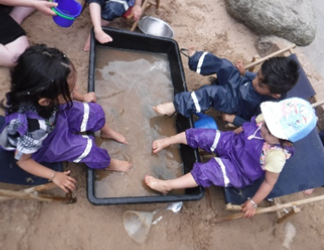 Welcome to Khubayb who has started his visits in Blue Room. We would also like to welcome Amelia's new baby sister and offer congratulations to the whole family!
Well done to all the children who have started toilet training and well done the parents/carers too for sticking at it, even when it's not that easy! If you feel that your child is ready to start toilet training, please talk to your key person who will be able to offer advice and support.
We had great fun last half term on our Peppa Pig Muddy Puddle Walk – lots of families joined us (and Peppa!) for a walk to the local park, splashing in puddles and finding clues on the way. The Zoolab visit was also really exciting! The children enjoyed seeing and touching lots of different animals - a real life learning experience to remember and talk about. We made the most of the sunshine and enjoyed planting and watering, playing in the sand and water and relaxing
Have a look in your child's file and encourage them to talk about the photographs of all the things they have been doing at Nursery.
Eid Parties will be on Monday 18th June – donations of food are welcome!
Our Sharing Stories sessions will take place on Monday 2nd July. Please come along and take part with your child, listen to the story 'Brown Bear, Brown Bear What Do You See?' and receive a free copy of the book for your child to take home and keep. Don't forget, you can borrow books from our library whenever you like. Sharing a book with your child for a few minutes every day will make a real difference to their language development, learning and life chances.
We are all looking forward to some more sunshine and lots of fun outdoors at Nursery. As always we would encourage you to get out and about locally with you child as often as you can, to experience all the sights, sounds and smells of the city and our wonderful parks, woods and nearby countryside.
Reminders:
If both parents/carers in your family work (or one in a single parent family), your child may be entitled to 30 hours free early education, starting the term after their 3rd birthday. If your child is moving up to Red or Yellow class in September and you think this may apply to you, please enquire at the front desk for more details.
Please check your child's basket every day in case there are any wet clothes to take home. Please bring a sun hat to nursery with your child's name written clearly inside – for them to wear when they play outside.