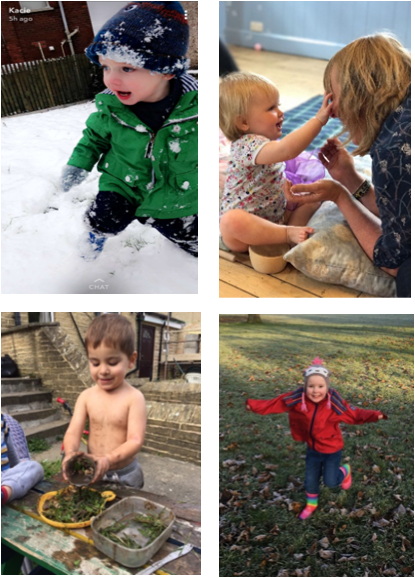 22 February 2018
We've had a very exciting winter, with a trip to London to meet our funders and meetings with colleagues in other areas of the country who are interested in our project. Better still, we have taken the list of 532 suggestions for what every Bradford child needs to experience before they are five and reduced it to the final 50. Consultation meetings happened in every ward in the district between September and December. We spoke to parents, children, early years practitioners, staff in health, fostering and adoption and education so it was no surprise that we got so many fabulous suggestions. The enthusiasm we met was an absolute delight, and some of the people we met have come forward to take on the role of 50 Things Enthusiasts! This team will attend training sessions that will give a good understanding of the resources we are developing (more of that later!), and they will be able to visit parent groups and staff teams across the district to pass on their knowledge. We still need more Enthusiasts, so if you're thinking that you might be interested, get in touch!
As well as this group of Enthusiasts, we have several students from the University of Bradford working with us. Their tasks include helping us to make the most of our social media account on Twitter (@50Thingsb4five) and our Facebook page (Fifty Things To Do Before You're Five). They will also be gathering photos from across the district of children in Bradford to use in our publicity, we have had some fabulous ones offered by Bradford parents, including this one of Kenny in the snow and Adam playing mud kitchens.
It would be terrific if all the publicity was illustrated with photos of your children, please do keep letting us have pictures of what your children love doing most, either on Facebook, Twitter or email to Andrea at andrea.layzell@stedmundsbradford.org.uk. Our creative partners, Frog, have designed some promotional materials including posters, postcard sized idea cards and our banners, which had their first run out at the Inspire Change 2018 day. Here we shared a stand with colleagues Better Start Bradford and had a chance to speak with health professionals attending the event about the 50 Things project, consequently I have meetings planned with teams from Health across the district to tell them about the initiative and show them the resources.
Now we have finalised the list of 50 Things, our local experts who are Specialist Leaders of Practice (SLPs) or Specialist Leaders in Education (SLEs) are working on creating sources of information that enrich each of the fifty…ideas about 'where', 'with what' and 'how' for each one.
We will be having the official launch of the project properly in the spring and already have some venues agreed. We hope that the launch event will demonstrate that 50 Things is for every child in Bradford and Keighley so again, if you would like the project to have a launch event in your setting, involving your parents and their children, give us a shout!