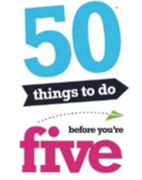 Dear parents and carers,
A big welcome to all our new families and welcome back to our returning families. We hope you enjoyed the wonderful summer weather we had this year. September is always an exciting and busy time of year. We do hope all our new children settle quickly, please talk to your child's key person if you have any concerns.
We have lots of exciting events and activities planned for the Autumn term so, along with the information in this Newsletter, keep an eye out for text messages and notices telling you what is happening and when. Also please make sure we have an up to date mobile phone number so you don't miss out on the text messages.
50 things to do before you're 5 is a new initiative for Bradford, created by St Edmund's. Download the app or visit the website for more information:
www.bradford.50thingstodo.org/app/os#!/50-things-to-do-before-yourre-five
We will be organising lots of events and activities this year to support you in completing the 50 things. We are really excited by this project and so far six other local authorities have bought it to use with their young children and families.
We are pleased to welcome Dina Gulbe as the new Yellow Class teacher, replacing Adam who left to further develop his career in Year 1 in a Bradford School. Dina is already a qualified teacher in Latvia and we were delighted to find out that her teaching qualification is fully recognised and valid in the UK. Dina started learning English at St Philip's Church some years ago and began volunteering at St Edmund's, she then gained employment, starting in Green Room and has worked her way up to her new role – quite a journey!
We are also pleased to welcome Lucy Phillips in her new role as Trainee Teacher in Red Class, Lucy is training with our very own Bradford Birth to 19 School Centred Initial Teacher Training (SCITT). If you are interested in training to be a qualified teacher with us ask Reception for more information.
Other new faces are Lauren Bourne in Birth to 2 (Lauren started just before the summer holidays) Danielle Clarke in Yellow Class, Robert Popik our new Red Class Apprentice and Jodie Illingworth, who is working with our Early Years Enhanced Specialist Provision. Maleehah Khan who was a student in Red Class will now be working every afternoon in Green Room. We hope they will all be very happy at St Edmund's. Also a big welcome back to Nabeela Younas who has come back to St Edmund's on a permanent basis after working at Lilycroft Nursery School.
You will also see several familiar staff in new roles this term. At St Edmund's we feel it's really important to support our staff in developing new skills and taking on new challenges.
The change to the way that children's centres are managed is finally happening. From 1st October, the Council's Prevention and Early Help Service will be running the children's centre here at St Edmund's as part of the Bradford West Family Hub. They will continue to run some Stay and Play sessions and parenting courses, we will let you have the new timetable as soon as we have it. Some staff will be moving into the new service and we hope that others will find new jobs within the Council. I would like to thank all of the Cluster staff for their hard work and commitment over the last 3 years.
We want you and your child to have a really special experience at St Edmund's. Please do talk to us if you have any suggestions as to how we can improve, we are always willing to listen.
Anne-Marie
Anne-Marie Merifield, Executive Headteacher